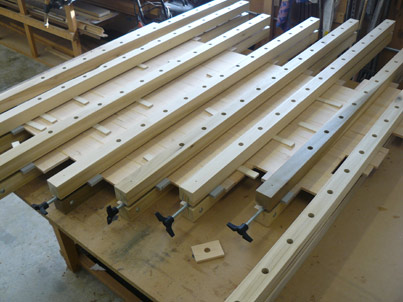 Consider this scenario: Your piano has just been rebuilt. It is tuned. It has a new pin block, new strings, hammers, and a re-built action. Everything is well regulated and voiced… but the piano stil doesn't sing.
Why? The original soundboard had failed and was not replaced. Even if it had been refinished and repaired it had failed on a cellular, and was no longer capable of supporting singing tone.
Our New England climate destroys piano soundboards.
By the time pin block and actions need replacing, chances are that the original soundboard has already failed, and irreversibly lost its resilience and needs to be replaced.
Rib Crowned and Supported Soundboards
A soundboard is a thin, weak panel of spruce wood that must support 700lbs of string force all day, every day, year after year. In order to support this load, a significant structure must be built into the board.
I build structure into my soundboards with engineered laminated ribs. They shape the board into a sweeping curve or "crown," transforming board into a powerful spring.
As a spring, the "rib crowned" structure has both stiffness and resiliency. The piano will sing if I design this spring with just the right balance of stiffness and resiliency.
Different amounts of spring are required throughout the tonal register, so each rib is designed with its own precise curvature and spring.
Powerful engineering tools, empirical testing, and consultations with structural engineers allow me to design the entire rib/board system with precision and repeatability.

When the board's spring matches the tonal requirements, the board sings.