Welcome to a premier Boston Piano workshop. Here, every aspect of Piano care — expert Piano Tuning, Piano Restoration, Piano Rebuilding, to Sales of one-of-a-kind signature, Re-manufactured Pianos — is offered as a complete client and musician centered service.
Grand Piano Solutions is based in Central Massachusetts, with a local service area that includes Boston, greater Boston, Central MA and Southern New Hampshire.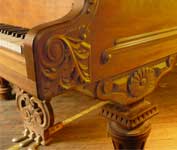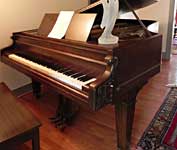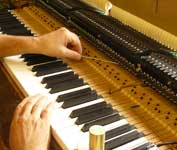 COMPLETE LINE OF PIANO SERVICES
Owner, artisan and pianist, Jim Ialeggio is a Piano Tuner, Piano Technician, and Piano Designer/Rebuilder par excellence. He has a crystal clear sense of what it takes to make any piano sound great. Whether he's working on a Fazioli, one of his own signature rebuilds, a wonderful old Chickering or a well used upright, he creates piano sounds which often bring a thrilled customer into the room exclaiming "How did you get it to sound like that?!"
His intimate knowledge of the nature of piano sound, the keenness of his musician's ear, engineering background, shop experience and ability to think outside the box, all combine to enable him to "get it to sound like that!" He can maintain or create the piano tone or piano touch YOU desire.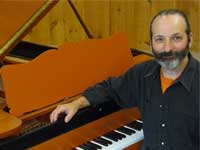 Whether it be tuning an artist level concert piano, or simply cajoling an old, tired upright to sound nice again, I can make your piano sound great.

Your piano can sing!
Jim is a Wessel, Nickel & Gross (WNG) certified piano technician. As a piano action designer, he is one of the few Boston area technicians certified to install WNG's high performance, composite piano actions. He is also a Certified Damppchaser installer.
Jim is a both a Master Piano Technician and an associate member of the Piano Technician's Guild, and has given seminars at numerous PTG professional conventions.