As soundboard issues can masquerade as action and touch issues, my first step in the touch design process is to analyze the existing tone of the piano. Soundboard issues are often misdiagnosed, and if not resolved can seriously compromise a new action's ability to control the piano's tone.
These are the steps in my touch design process:
Assess the target touch and quantify the preferred inertial touch factor (as described in Defining Your Ideal Touch)
Analyze the existing tone of the piano
Determine what hammer type, hammer weight and action leverage would drive the soundboard to sound its best
Target the inertia which determines how the action feels (see Understanding Inertia)
Computer optimize action pivots and levers
Prove the design in a working model
Fabricate the design
Customize and fine-tune the regulation in-home
With the newly designed action in the piano, the pianist and I work together at the piano customizing and fine tuning all aspects of the action. We are only done when tone is an extension of touch, and both are sensations of physical enjoyment.
CAD Optimization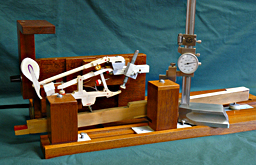 Proving the Design