Rebuilt Pianos For Sale
Current Commissions
Vintage Pianos Offered for Restoration
I maintain a stock of Vintage Pianos which are excellent candidates for fine restoration.
These pianos, when restored as one of my "signature" pianos, will provide a tier one artist level performance often at 1/3 to ½ the cost of a new tier one piano.
Restoration prices are quoted on request. I can also obtain other vintage or suitable cores for restoration that are not listed here, so if you have a particular piano in mind, please inquire and I will locate that particular instrument as a core to re-manufacture.
Current offerings include:
Click image to enlarge
Chickering 110b c 1890, 7′8″
Offered for period appropriate restoration, or creation of a one-off signature Ialeggio piano.
Chickering 123 c 1903, 6′6″
(two available)
Offered for full or partial restoration. An ideal candidate for a signature Ialeggio remanufactured piano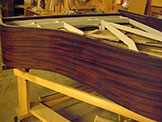 Click image to enlarge
Hume Grand Piano c 1907, 5′10″
Offered as a signature Ialeggio re-manufactured piano – work is in progress for completion mid 2014