Jim Ialeggio – Fine piano tuning for home and concert venues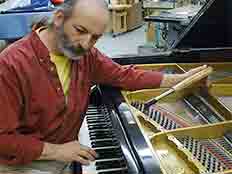 I tune fine grand pianos, as well as humble everyday home pianos.

The sounds I create are nice. They often bring a smiling client into the room asking "How did you make it sound like that?!"

Here's how I do it…
Whole
-

Tone Piano Tuning: $175

My signature "Whole-Tone" piano tuning service consists of a 2-1/2 hr visit. In this visit I tune the entire piano multiple times… 2 to 3 tuning passes over the entire instrument. The first-pass gets the piano close to "in-tune", while the second or third pass "fine-tunes". The fine-tuning creates the beautiful consonances my tunings are known for.

What is Whole-Tone Piano Tuning?

[ Read More ]
Restoring Your Piano's Voice
If your piano just doesn't sound or feel the way you like it, it's not a lost cause! I specialize in creating or restoring a piano's tone and touch:
When To Tune Your Piano
[ Read More ]
After speaking with Jim Ialeggio on the phone, I knew he was the person for the job. He went out of his way to accommodate me from our 20 minute phone conversation to coming to my school to tune the piano. On the day of the tuning, after a brief but friendly greeting, Jim went to work. I saw a craftsman fully concentrated with devotion, immersed in his work. He repeatedly worked over every part of that piano and left no stone unturned. He worked without a time limit until he was fully satisfied with the results. I've been playing music for over 30 years and I've been around a lot of piano tuners. Jim is the best, most thorough piano tech I've ever encountered! I've experienced so many "reputable" techs that are trying to get out of the job with their money and a half way job of tuning. Not the case with Jim … Jim is friendly, courteous, down to earth and professional. He is funny to boot! You will experience first class customer service from greeting to completion of work … a first rate piano craftsmen with passion for his work and an accommodating personality…

— Kelly Shepherd, music teacher, kellysmusicandmore.com
Call 978-425-9026 today
to schedule your piano tuning.